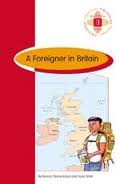 F I N A L T E S T
1. In Trafalgar Square, on New Year's Eve,Antonio and Pablo couldn't hear Big Benbecause
a. the people were dancing to Caribbeanmusic.
b. there was too much noise.
c. Trafalgar Square is very very far awayfrom Big Ben.
2. In Oxford, it's a tradition for students
a. to have fights with the townspeople.
b. to perform in the streets.
c. to see the sunrise on May Morning.
3. Gareth invited Antonio to come to Wales because
a. he was getting married.
b. he wanted Antonio to meet his cousin,Angharad.
c. he wanted to take Antonio to the RoyalNational Eisteddfod.
4. Antonio went to Cornwall because
a. he wanted to read stories about KingArthur.
b. Angharad had told him to go there.
c. he wanted to write an article for acompetition.
5. In Manchester, Louise and Antonio waited ina queue to
a. get into a nightclub.
b. see David Beckham, the football player.
c. see Manchester United play Liverpool.
6. The Highland Games in Scotland are
a. held every year during Hogmanay.
b. a competition of traditional Scottishsports.
c. cancelled if it rains.
A. Choose the correct answer.
B. Choose the correct answer.
Antonio and his friend, Mark, (1. were sitting / sat) in a bar in Madrid when Mark said that Antonio should write about his (2. performances / experiences) in Britain. Antonio starts the book by telling us that recently, he (3. took / has taken) his friend, Pablo, to see London and Pablo wasn't (4. exciting /disappointed) in what he saw. In York, Antonio went to the Jorvik Viking Centre, and he(5. is believing / believes) that there should be more (6. exhibitions / festivals) like that one to teachpeople about history. In Oxford, after the May Ball, Antonio (7. wouldn't / couldn't) understand why people were jumping into the river in their expensive clothes. A dream came true when Antonio had a drive in Nicola's father's old Bentley and this (8. reminded / appreciated) him of a film he had seen when he was a child.In Wales, Antonio met Angharad, Gareth's cousin. He (9. obviously / immediately) fell in love with her and they were together for the rest of Antonio's (10. stay / event) in Wales. In Cornwall, Antonio was impressed by the beautiful (11. coal / scenery) and there he learned all about Cornwall's myths andlegends. In Manchester, he (12. actually / occasionally) saw David Beckham, the famous footballer,and went to a football match at Old Trafford stadium.Antonio visited his friend, Martin, in Edinburgh and then they spent (13. much / a few) days in the North of Scotland. Antonio (14. even / amongst) tried eating some haggis!Antonio ends the book by telling us that if we travel with an open mind, we will always take somespecial (15. patterns / memories) home with us.
30 points (5 points each)
45 points (3 points each)
25 points
C. Choose one topic and write a paragraph. Your paragraph should be at least 60 words long.1. If you were going to Britain, which place mentioned in the book would you like to visit and why?
2. What are your impressions of Antonio? Give reasons for your opinions.3. Choose one of Antonio's friends and say how they met and became friendly. Describe therelationship.